Giving Beekeeping Guidance by cOmputatiOnal-assisted Decision making
B-GOOD's training events: Fostering sustainability and health within the beekeeping sector
In early spring 2022 two training sessions took place within the B-GOOD project to foster the exploitation of the project's results.
As training courses enable knowledge exchange, they are key for ensuring the achievements of B-GOOD objectives. With this in mind, the two events engaged diverse stakeholders involved in the project and ensured a broader exploitation of the project's results.

The online training school for B-GOOD stakeholders took place in the evening of Thursday 24th of March 2022 as a single online event via Zoom. It was primarily designed for beekeepers collaborating with B-GOOD WP1 members for the test of technologies and grouped together 46 beekeepers from 12 countries across Europe.
In the first part of the event, participants were introduced to the project through a detailed overview presented by the main project coordinator. This gave the beekeepers the opportunity to understand how their contribution was fitting into the broad scope of B-GOOD. In the second part, beekeepers received hands-on training through direct instructions and tutorials and learnt how to set up and use the B-GOOD technologies that are to be tested, such as BEEP. After each session, the participants had the possibility to exchange feedback and ask questions to the speakers and directly interact with the responsible in charge.
The main objectives of the first training included:
• Introducing the project
• Interacting with beekeepers involved in the project
• Obtaining specific feedbacks on the technologies developed
• Ensuring that stakeholders operating in the field parts of the project receive the proper training
The B-GOOD Online Honey Bee Course "Introduction to honey bee research and modern beekeeping" was held via Zoom and took place between Monday 11th and Wednesday 13th April 2022. The 3-day European Bee Course was dedicated to early-career researchers and stakeholders in the field of honey bee health and grouped together 20 participants from 12 countries.
During the training, the participants followed diverse lectures on general honey bee biology, health, and beekeeping. On the last day, a detailed introduction to the B-GOOD project provided the students a clear example of how honey bee research is applied in multiple fields. This last intervention enabled B-GOOD members to increase their connection with the research community and spread awareness over the present and future opportunities made available by the European Commission in fostering the growth of honey bee science.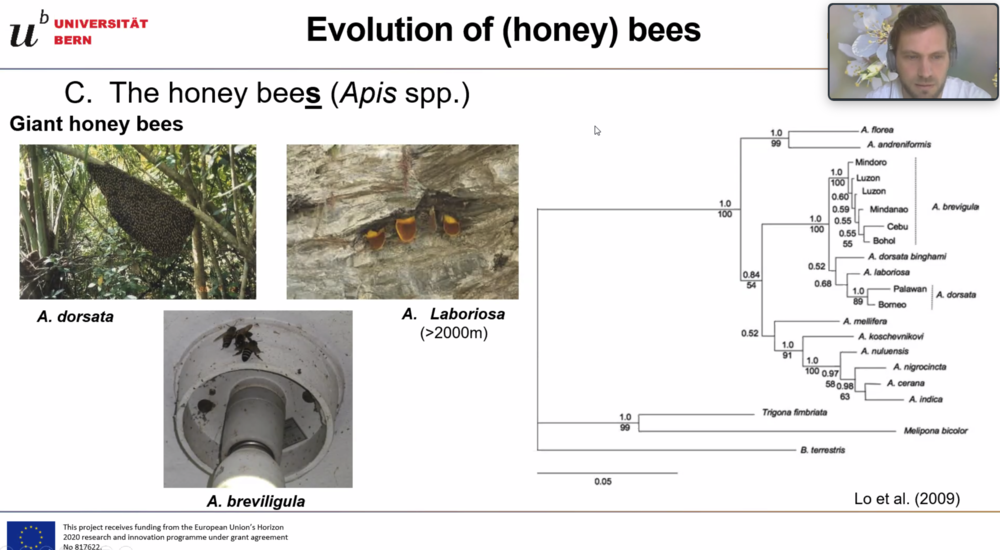 Photo: A slide from the presentation during the online Honey Bee course, showing the evolution of (honey) bees
The main objectives of the B-GOOD Online Honey Bee Course included:
• Introducing the project
• Reflecting about sustainability and the future of beekeeping
• Educating young scientists and early-career researchers
These B-GOOD trainings events represented a significant opportunity for stakeholders
and scientists to acquire more knowledge and resources while also enabling the expansion of B-GOOD communication and promoting the exploitation of the project's achievements.