Giving Beekeeping Guidance by cOmputatiOnal-assisted Decision making
World Bee Day: forging a bee-friendly world
May 20th has been designated as World Bee Day. It thus underlines the importance of bees and other pollinators for biodiversity and food security, as well as for humanity in general. Seventy-five percent of global food crops are dependent on pollination, especially by bees. But instead of blooming wildflower meadows, the hard-working insects often only find concrete surfaces and rock gardens in our cities. In the fields of agriculture, their lives are still threatened by pesticides. Despite political assertions to the contrary, there are loopholes for the approval of even very dangerous pesticides "under special conditions". This is contributing to the dramatic decline in global bee populations.
On World Bee Day 2021, Slow Food Germany and ProBiene discussed concrete solutions and ideas for a real bee-friendly country and economy. Topics such as the role of regional marketing structures, strengthening rural areas as a liveable cultural area, protecting biodiversity as a habitat for bees, humans and animals, as well as reconciliation of ecology and economy were discussed by a panel of experts.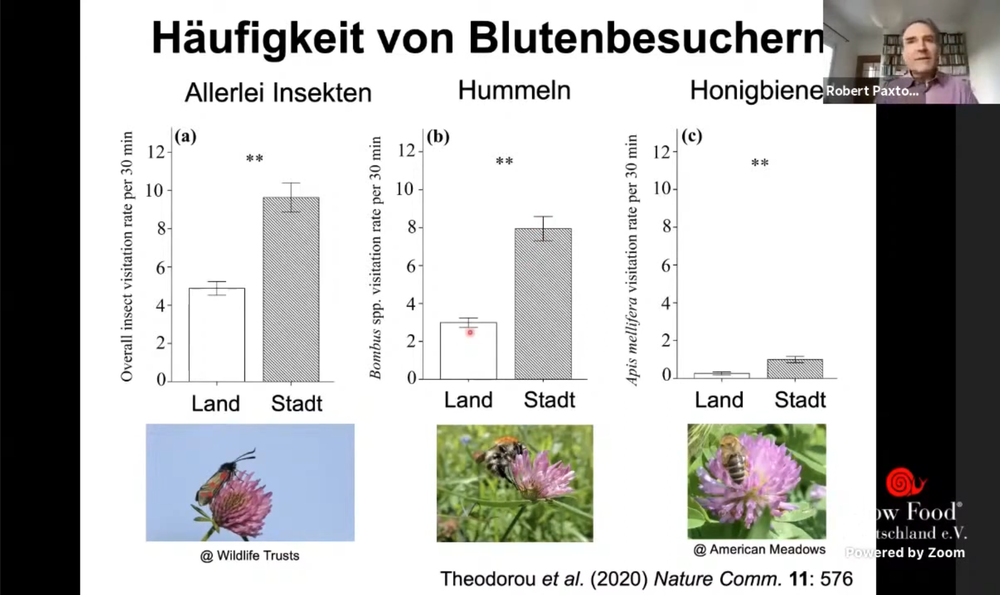 Photo: A slide from Prof. Dr. Robert Paxton's presentation
One participant in this panel was B-GOOD partner Prof. Dr. Robert Paxton, Institute for Biology / Zoology, Martin Luther University Halle-Wittenberg. His impulse statement discussed factors for the vitality of bee communities and other pollinators. To view Robert's talk and the whole online event (in German), please follow this link.