Giving Beekeeping Guidance by cOmputatiOnal-assisted Decision making
New B-GOOD post-doctoral researcher position at Nottingham Trent University
The B-GOOD team is looking to expand with a new post-doctoral researcher!
B-GOOD project partners at Nottingham Trent University are seeking a candidate to work as a Post-Doctoral Research Assistant to perform fundamental research into honey bee health and the automated monitoring of hives.
The vision of B-GOOD is to pave the way towards healthy and sustainable beekeeping within the European Union by following a collaborative and interdisciplinary approach. The NTU research team aims to undertake and optimise machine learning algorithms on the vibrational spectra, in order to devise colony status assessments. If you have a Ph.D. in science in a relevant field (e.g. Physics, Computing, Electronics), a good academic record, and a passion for bees - we would be happy to have you on the B-GOOD team!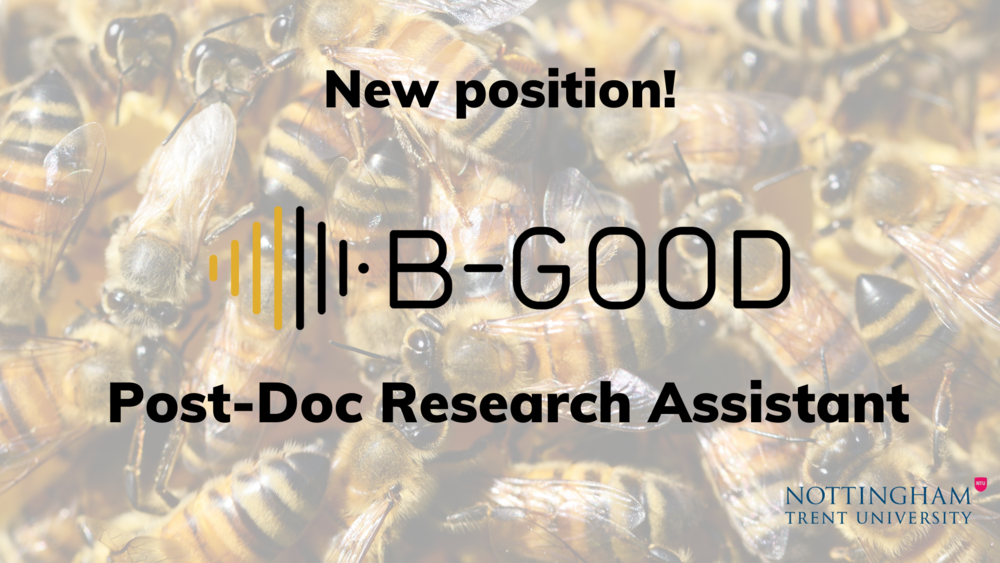 The post-doctoral researcher position at NTU will involve working in close collaboration with, including possibly spending short periods of time at, consortium research organisations in Europe. The successful candidate will assist the project lead in writing matlab® and/or GNU Octave code in order to undertake the numerical analysis required. Specific duties will include, in particular, beekeeping (appropriate training will be given where necessary), statistical analysis, machine learning, maintenance of colony monitoring hardware, contributing to conference presentations and publications, and liaising with non-academic audiences and stakeholders.
If you have any specific queries in relation to the position, read more here or contact Dr. Martin Bencsik, Associate Professor via email on martin.bencsik@ntu.ac.uk.