Giving Beekeeping Guidance by cOmputatiOnal-assisted Decision making
#BeekeeperStories continues!
Our campaign #BeekeeperStories, presenting the stories of various B-GOOD beekeepers, continues on Twitter & Facebook! The third feature in the series is Chrys Charpentier. He is a beekeeper from the Netherlands, who shares with us his aspirations and the story behind his passion for bees.
Chrys' grandfather is a beekeeper who inspired him to become one as well when he was just 14 years old. His favourite part about being a beekeeper is that it gives colour to his daily life. Chrys says each day brings something new and different. His biggest goal, and challenge at the same time, is to keep his bees healthy, happy and productive.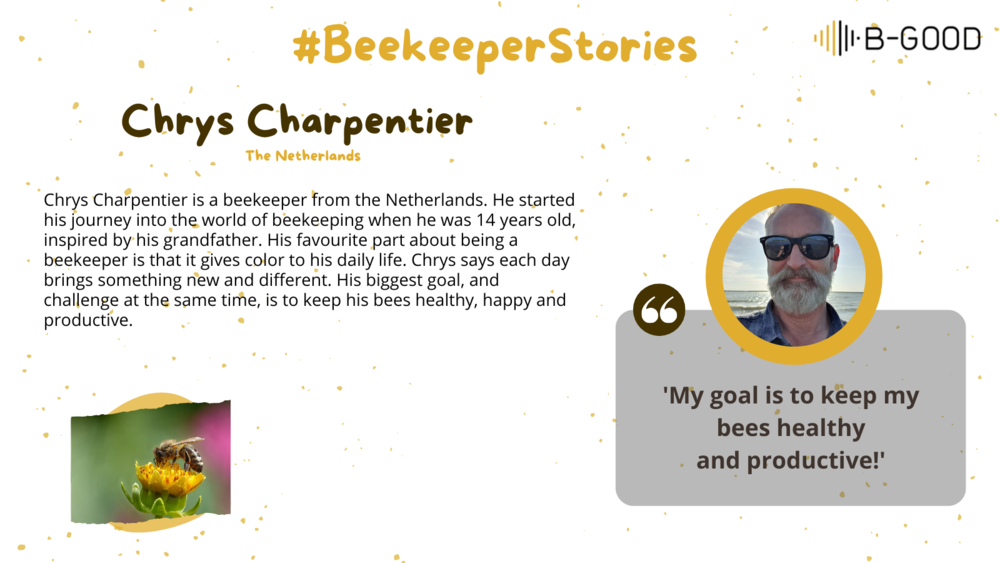 The #BeekeeperStories campaign aims to highlight the importance, opportunities, and challenges of beekeeping. The stories are shared weekly on the project's website, as well as on the B-GOOD social media channels. Stay tuned to learn more about the world of beekeeping!
If you are interested to know more about the B-GOOD beekeepers and stay updated follow our Twitter & Facebook accounts!
See the first & second #BeekeeperStories posts.