Giving Beekeeping Guidance by cOmputatiOnal-assisted Decision making
#BeekeeperStories part 4: An insight into the challenges of treating Varroa
Our campaign #BeekeeperStories, presenting the stories of various B-GOOD beekeepers, continues on Twitter & Facebook! The fourth feature in the series is Malte Hesse.

Malte is a beekeeper from Essen, Germany. Four years ago, his company offered a beekeeping course, while working together with the Bee Association in Mannheim. The training took place on the campus of the company, where the beehives were located. The course sparked Malte's interest and he immediately signed up. He's been a beekeeper ever since. What keeps him interested is, as he says, that bees never behave the way you would expect them to and one has to figure out why they are doing what they do. Malte learns something new every day.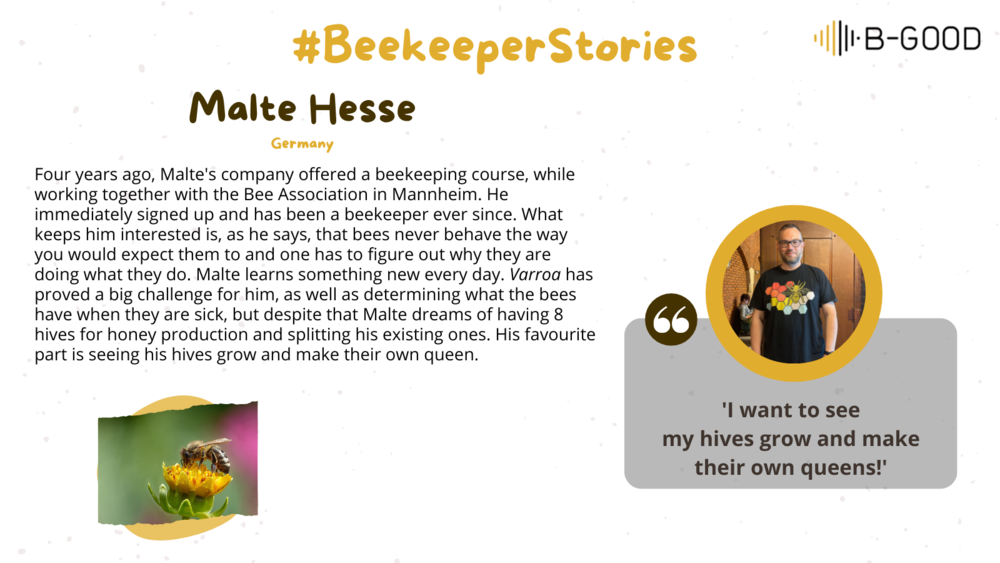 Varroa has proved a big challenge for him since in Germany the only permitted treatment is 60% Formic acid solution and drizzling Oxalic acid on the bees. He says that in times like last summer, when the weather is very humid, these methods are not that effective. Determining what the bees have when they are sick has also been hard for him, but despite that Malte dreams of having 8 hives for honey production and splitting his existing ones. His favourite part is seeing his hives grow and make their own queen.
The #BeekeeperStories campaign aims to highlight the importance, opportunities, and challenges of beekeeping. The stories are shared weekly on the project's website, as well as on the B-GOOD social media channels. Stay tuned to learn more about the world of beekeeping!
If you are interested to know more about the B-GOOD beekeepers and stay updated follow our Twitter & Facebook accounts!