Giving Beekeeping Guidance by cOmputatiOnal-assisted Decision making
Beekeeping: a hobby with sweet rewards (#BeekeeperStories part 5)
Our fifth feature in the #BeekeeperStories series on Twitter & Facebook is Thorsten Hornemann.
Thorsten is a hobby beekeeper from Switzerland, who joined BEEP and the B-GOOD project. He had a lifelong fascination with insects, especially bees. He lived in Germany when he was younger and tried beekeeping there for a while. He made the decision to retry after moving to Switzerland. For him, the best part is, of course, honey. Thorsten loves seeing his bees grow, studying their behaviour, and analysing how they act and interact.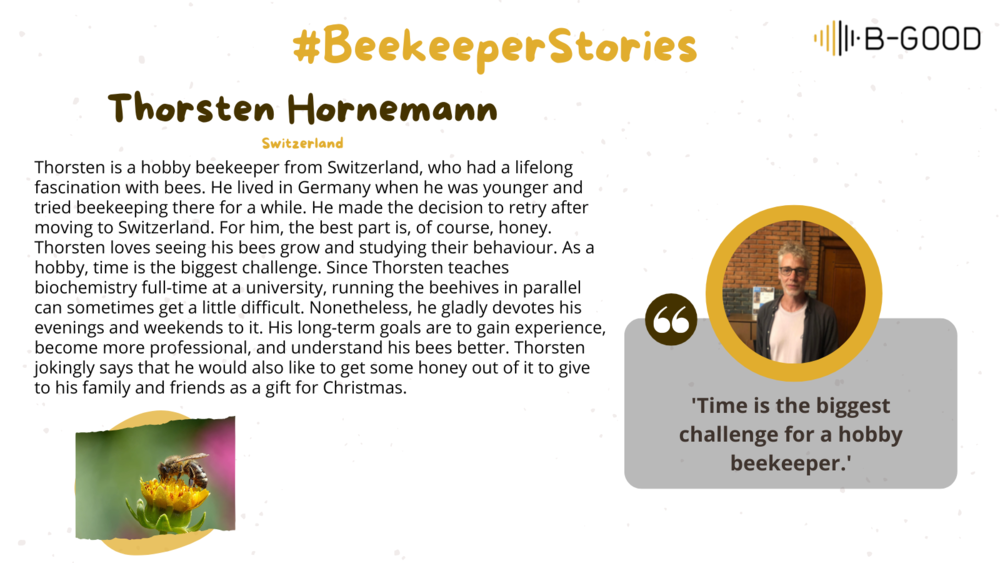 As a hobby, time is the biggest challenge when it comes to beekeeping. Since Thorsten teaches biochemistry full-time at the University of Zurich, running the beehives in parallel can sometimes get a little difficult. Nonetheless, he gladly devotes his evenings and weekends to it.
His long-term goals are to gain experience, become more professional, and understand his bees better. Thorsten jokingly says that he would also like to get some honey out of it to give to his family and friends as a gift for Christmas.
The #BeekeeperStories campaign aims to highlight the importance, opportunities, and challenges of beekeeping. The stories are shared weekly on the project's website, as well as on the B-GOOD social media channels. Stay tuned to learn more about the world of beekeeping!
If you are interested to know more about the B-GOOD beekeepers and stay updated follow our Twitter & Facebook accounts!