Giving Beekeeping Guidance by cOmputatiOnal-assisted Decision making
The thrill of being surrounded by thousands of bees: #BeekeeperStories part 7
Our campaign #BeekeeperStories on Twitter & Facebook continues! The next feature is Dirk-Jan (DJ) Valkenburg, a B-GOOD researcher for Wageningen University & Research (WR), who is also participating in the project as a Tier 3 beekeeper.

From early childhood, DJ remembers being fascinated by people wearing bee suits. He always knew he wanted to become a beekeeper in the future, but thought he would have more time for that when he's older. But then fate played its part and he got a job as a technician at WR, which also works with bees. He started with a small project and ended up as a bee researcher for WR.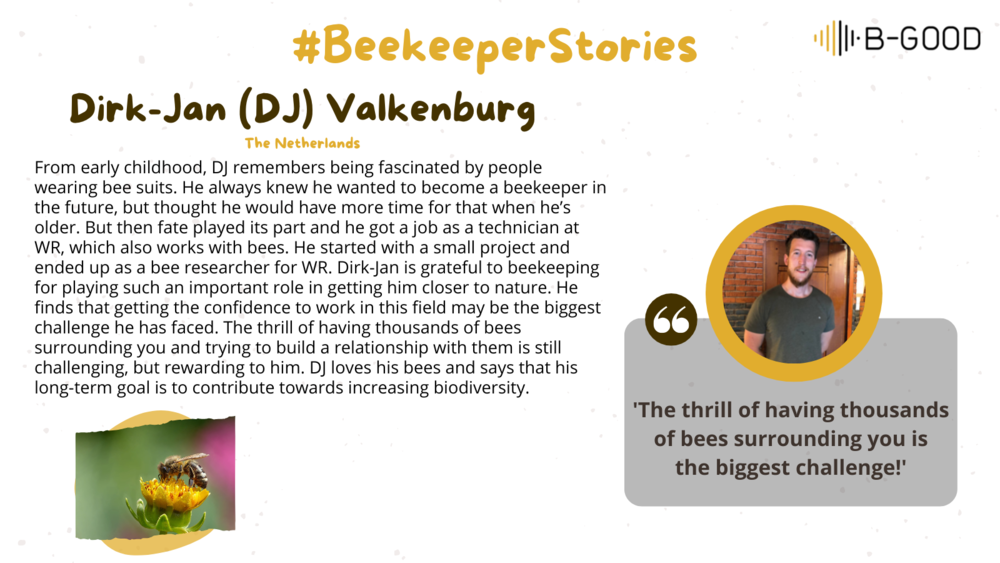 Dirk-Jan is grateful to beekeeping for playing such an important role in getting him closer to nature. He finds that getting the confidence to work in this field may be the biggest challenge he has faced. The thrill of having thousands of bees surrounding you and trying to build a relationship with them is still challenging, but rewarding to him.

DJ loves his bees and says that his long-term goal is to contribute towards increasing biodiversity.
The #BeekeeperStories campaign aims to highlight the importance, opportunities, and challenges of beekeeping. The stories are shared weekly on the project's website, as well as on the B-GOOD social media channels. Stay tuned to learn more about the world of beekeeping!
If you are interested to know more about the B-GOOD beekeepers and stay updated follow our Twitter & Facebook accounts!