Giving Beekeeping Guidance by cOmputatiOnal-assisted Decision making
Beekeeping - the best father-son bonding activity: #BeekeeperStories part 8
#BeekeeperStories is back on Twitter & Facebook! In the eight feature of the series, we present to you Bas Sprengers.
Bas is a 35-year-old beekeeper from the Netherlands. He has always been fascinated by insects. Before starting beekeeping, he used to keep ants in a formicarium. In 2016, after getting his driver's licence, he bought second-hand beekeeping equipment from a retired beekeeper and since that day he's had between 1-14 hives. Bas says that he loves spending time with these interesting creatures. Unfortunately, his bee time is limited as not only does he have to take care of his 2-year-old son and work as a scientist, but he likes to enjoy his other hobbies as well - tending to his vegetable garden and brewing beer and mead.
He used to go on trips, organised by the local beekeepers' associations, with his hives to the rapeseed fields just over the border in Germany. These travels quickly became his favourite part of beekeeping as he loved looking around, seeing nothing but yellow flowers, and hearing nothing but the buzzing of happy bees. Moreover, after the rapeseed blooming season, the hives were filled with the most delicious white cream honey that everyone enjoyed together.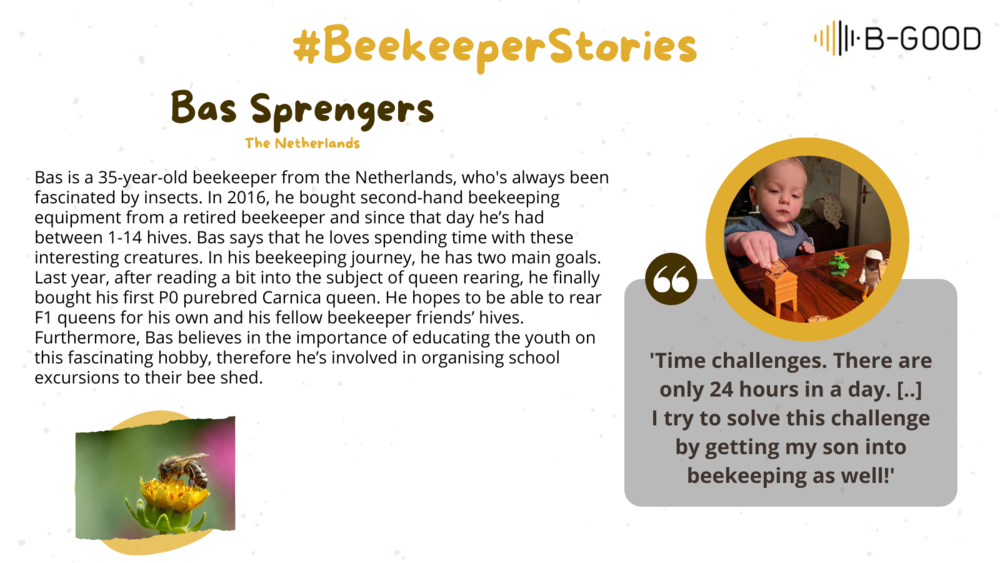 The biggest challenge for him is, of course, time. There are only 24 hours in a day and for some beekeeper duties, like queen rearing, sometimes it's impossible to postpone a task that has to be done on a specific day. However, Bas came up with the perfect solution - getting his son into beekeeping, so that they can spend more quality time together.
In his beekeeping journey, he has two main goals. Last year, after reading a bit into the subject of queen rearing, he finally bought his first P0 purebred Carnica queen. He hopes to be able to rear F1 queens for his own and his fellow beekeeper friends' hives. Furthermore, Bas believes in the importance of educating the youth on this fascinating hobby, therefore he's involved in organising school excursions to their bee shed.
The #BeekeeperStories campaign aims to highlight the importance, opportunities, and challenges of beekeeping. The stories are shared weekly on the project's website, as well as on the B-GOOD social media channels. Stay tuned to learn more about the world of beekeeping!
If you are interested to know more about the B-GOOD beekeepers and stay updated follow our Twitter & Facebook accounts!