Giving Beekeeping Guidance by cOmputatiOnal-assisted Decision making
B-GOOD research: A novel indirect lateral flow immunoassay allowing Chlorpyrifos detection
A new publication focusing on the Lateral Flow Device (LFD) developed within B-GOOD is now available. The article titled "Biosensing Chlorpyrifos in Environmental Water Samples by a Newly Developed Carbon Nanoparticle-Based Indirect Lateral Flow Assay" has been published in Biosensors - the international, peer-reviewed, open access journal on the technology and science of biosensors.

The authors of the article, amongst whom B-GOOD researchers Mang Xu and Jeroen Peters of Wageningen Food Safety Research and Dr. Coby Van Dooremalen of Wageningen University & Research, discuss the effects of pesticide-use on humans and the environment, as well as methods for Chlorpyrifos detection.

Pesticides are used in agriculture to prevent pests. Their use in agriculture and buildup in the environment have long been disputed, and the environmental impacts have been thoroughly studied. An organophosphate pesticide called Chlorpyrifos (CHLP) was first introduced in 1965 and has been used successfully to combat pest insects that attack citrus trees, onions, corn, and seeds. Chlorpyrifos is an insecticide with potentially detrimental effects on humans, bees, and the aquatic environment. In humans, CHLP can cause cardiovascular diseases, endocrine disruption, neurotoxic effects and can even be lethal. Additionally, CHLP also has a strong impact on the aquatic environment, as well as being highly toxic to bees. However, CHLP is still produced and used outside of the European Union, where its effects have resulted in a complete ban.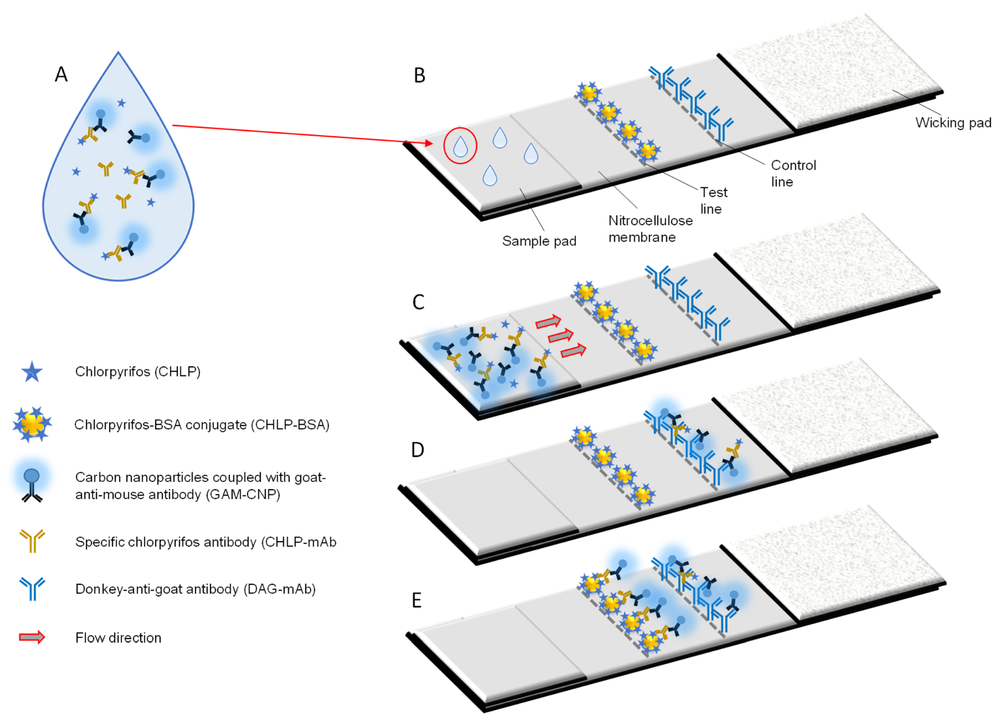 Figure 1. Principle of the CHLP lateral flow immunoassay (LFIA). Surface water samples are mixed with CHLP-mAbs and the GAM-CNP reporter (A). They are applied to the sample pad (B) and start to flow over the NC membrane towards the wicking pad of the LFIA (C). In case a high concentration of CHLP is present, the CHLP-mAbs will not bind to the CHLP-BSA conjugate on the test line. The GAM-CNP and the GAM-CNP/CHLP-mAb complex will bind to the DAG-mAb on the control line (D). In case no CHLP is present in the sample, the CHLP-mAb and the GAM-CNP/CHLP-mAb complex will bind to the CHLP-BSA conjugate on the test line and also to the DAG-mAb on the control line (E).

In the current study, a novel indirect lateral flow immunoassay (LFIA) was created to detect CHLP. The detector conjugate used in the LFIA was goat anti-mouse IgG antibody molecules immobilized on carbon nanoparticles (GAM) (GAM-CNP). The readout of the results was carried out by rapid intensity-based imaging utilizing a handheld detector (Cube) and visually by the naked eye. The LFIA was created to be integrated into cassettes with sample and assay reagents displayed in microtiter plate wells for future point-of-need applicability. Ultimately, a simplified approach of the LFIA, i.e., incorporating ready-to-use reagent tubes, showed good perspectives for the straightforward on-site detection of CHLP in water samples with high sensitivity.

You can read the full paper here.