Giving Beekeeping Guidance by cOmputatiOnal-assisted Decision making
#BeekeeperStories part 9: Becoming a beekeeper on an impulse
Meet Vincent Louis, a Swiss beekeeper living in Geneva, on the new #BeekeeperStories instalment!

Vincent started beekeeping 5 years ago in a hobby group within an industrial company. Two years later, he had the opportunity to acquire his own apiary from a beekeeper who had to urgently leave the country. It took him less than five minutes to make the decision without even realising that he lives in an apartment and has no garden to set the colonies. Fortunately, he was lucky enough to find someone who agreed to open up his garden to his bee less than 24 hours before the pick-up time.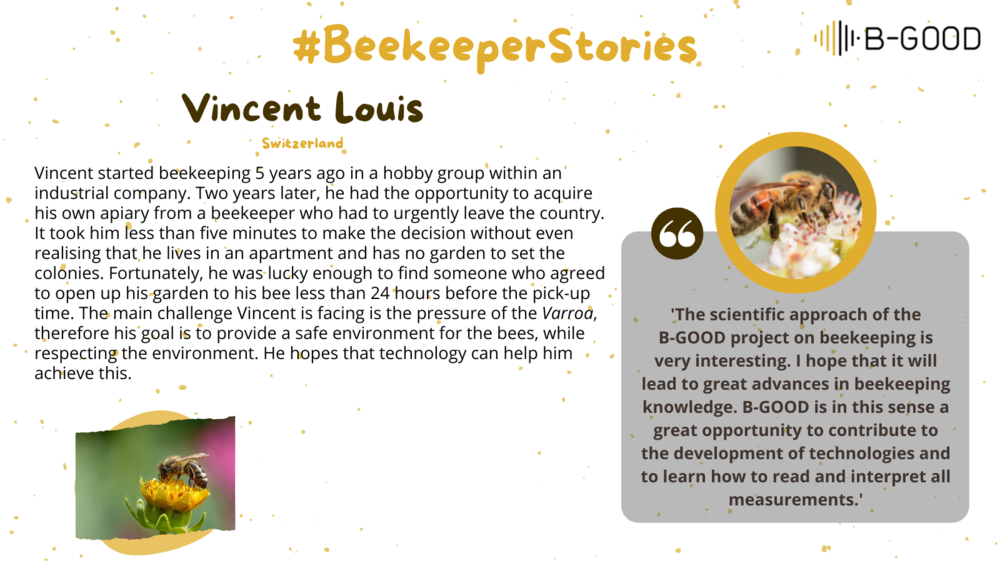 He loves to observe the hives with all his senses (sight, sound, smell, taste, and touch) the activity and health of the colony, and to take immediate actions to provide the best conditions for the bees. Even though it might be really intense sometimes, he says it's the best part. Harvesting honey is simply a witness to the good care provided throughout the year.

The main challenge Vincent is facing is the pressure of the Varroa, therefore his goal is to provide a safe environment for the bees, while respecting the environment. He hopes that technology can help him achieve this.
As a B-GOOD beekeeper, Vincent says:
"The scientific approach of the B-GOOD project on beekeeping is very interesting. I hope that this modelling project will lead to great advances in the beekeeping knowledge. The B-GOOD project is in this sense a great opportunity to contribute to the development of technologies and to learn how to read and interpret all measurements."

The #BeekeeperStories campaign aims to highlight the importance, opportunities, and challenges of beekeeping. The stories are shared weekly on the project's website, as well as on the B-GOOD social media channels. Stay tuned to learn more about the world of beekeeping!

If you are interested to know more about the B-GOOD beekeepers and stay updated follow our Twitter & Facebook accounts!