Giving Beekeeping Guidance by cOmputatiOnal-assisted Decision making
B-GOOD at the 9th European Congress of Apidology (EurBee9)
The 9th European Congress of Apidology (EurBee9) took place from 19-22 September 2022 in Belgrade, Serbia. This year's edition of the conference was convened under the motto "Save the bees for our future" and welcomed scientists from Europe and far beyond to exchange recent advancements and ideas that emerge from basic and applied research.
The conference aims to foster the exchange of knowledge and international collaboration and to enable researchers, instructors, students, and extension specialists to continue exchanging current scientific knowledge on many aspects of managed and wild bees. EurBee has become the main European event for bee scientists studying how bees respond to climatic changes to discuss problems with bee health, conservation, ecology, diversity, pollination, beekeeping, and colony losses. The conference serves as a connection platform for top European research in Apidology and hosts pan-European research projects and networks.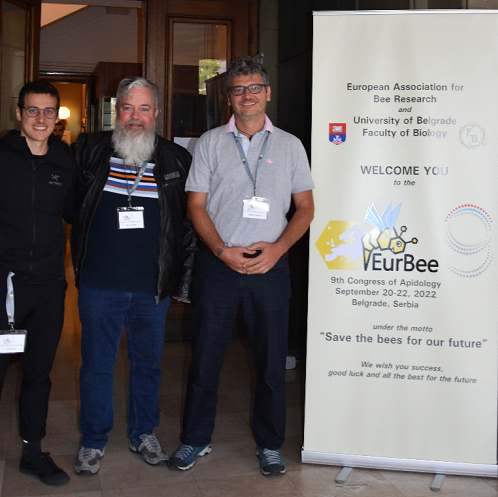 Photo: B-GOOD members at EurBee9 - Arrigo Moro, Dirk de Graaf and Raffaele Dall'Olio
The 4-day-long event offered a scientific program full of activities and panels, covering a wide range of topics of interest to researchers and beekeepers alike, including state-of-the-art lectures, plenary and poster sessions, and various symposia. Six world-renowned experts in bee science were invited to give keynote lectures to present the latest developments in their research fields. As a key project on healthy and sustainable beekeeping, B-GOOD had a strong representation at the congress. B-GOOD's coordinator Prof. Dirk de Graaf (Ghent University) gave a comprehensive overview of the project. During the poster sessions, B-GOOD project manager Dr. Lina De Smet (Ghent University) showcased the direct and sensitive detection of deformed wing virus using loop-mediated isothermal amplification (LAMP) in honey bees. The LAMP tool was developed on the sidelines of B-GOOD. Partner Anja Tehel (The Martin Luther University of Halle-Wittenberg) presented the project with a poster titled "B-GOOD WP1: Make the lives of bees and beekeepers easier". Other B-GOOD partners that participated in the event were Dr. Alexis Beaurepaire & Dr. Arrigo Moro (University of Bern), Prof. Robert Paxton (The Martin Luther University of Halle-Wittenberg), Dr. Raffaele Dall'Olio (BeeSource) and David Claeys Bouuaert (Ghent University).
B-GOOD coordinator Dirk de Graaf and PoshBee coordinator Mark Brown organised and chaired a symposium entitled: 'Pan-European research network', in which key research projects of the European Commission shared their research output.
EurBee 9 congress contributed to identifying new approaches, tools, and techniques to meet future needs and challenges facing bee science.