Giving Beekeeping Guidance by cOmputatiOnal-assisted Decision making
B-GOOD at the 18th COLOSS Conference (2022 COLOSS eConference)
The first part of the 18th COLOSS Conference took place online on 17-18 October. The two-part 2022 e-gathering consists of 2 days full of workshops and a main event, which will be held on 2-3 November.
COLOSS (Prevention of honey bee COlony LOSSes) is an international, non-profit association headquartered in Bern, Switzerland that is focused on improving the well-being of bees at a global level. It is composed of scientific professionals that include researchers, veterinarians, agriculture extension specialists, and students. COLOSS believes that cooperation and open dialogue are key to better understanding the reasons why bee populations are threatened in today's world.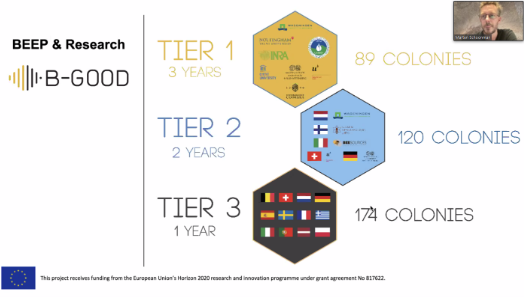 Photo: A slide from Marten Schoonmann's presetation showing B-GOOD's partner structure
The international meeting of COLOSS aims to provide an update on the network's achievements and future directions and is open to any scientific professional interested in the well-being of bees. Each Core Project and Task Force, part of the association, hosted an online workshop that was open to all registered conference participants.
As a key project on healthy and sustainable beekeeping, B-GOOD was represented by Marten Schoonman. Marten gave a short overview of the project and presented the work of the BEEP foundation. The BEEP team develops the BEEP beekeeping app & BEEP base, as well as other tech such as the B-GOOD Bee health data portal.
Read more about the conference here.