Giving Beekeeping Guidance by cOmputatiOnal-assisted Decision making
B-GOOD at the 48th edition of the Apimondia International Apicultural Congress
The 48th edition of the Apimondia International Apicultural Congress took place from 4-8 September 2023 in Santiago, Chile. As the biggest beekeeping event in the world, it brought together beekeepers, scientists, honey traders, development workers, technicians, and legislators to listen, discuss, and learn from each other.
Under the slogan "APIMONDIA Chile 2023 - Sustainable Beekeeping, from the south of the world" the event offered a rich scientific program, an ApiExpo full of innovations, associative debate on matters of transversal interest for all, and technical tours oriented to three principal aspects of beekeeping in Chile. The setting for this congress was in the capital of Chile, with the snow-capped Andes mountains as a backdrop. Technical tours took people to nearby beekeeping operations and the chance to visit world-class bodegas to taste Chilean wines.
The 5-day-long scientific program was full of activities and panels, covering a wide range of topics of interest to researchers and beekeepers alike, including apitherapy, bee health, beekeeping technology, etc. Sustainable beekeeping in a changing world, value-added products from the hive, and land use, biodiversity, and beekeeping were the main focus for three of the days (respectively).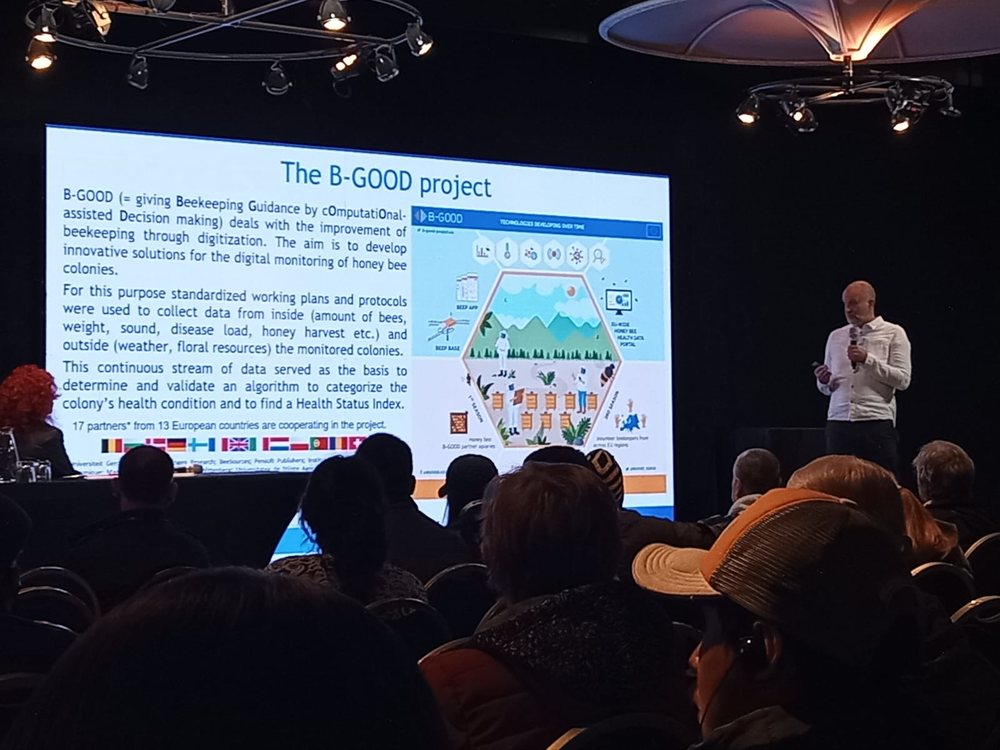 Photo: Dr. Marc O. Schäfer presenting the B-GOOD project at Apimondia 2023
As a key project on healthy and sustainable beekeeping, B-GOOD was also represented at the congress by project partners Dr. Marc O. Schäfer (Friedrich-Loeffler-Institut) and Dr. Severine Matthijs (Sciensano). Marc contributed to the Bee Health session on day 5 with the topic of potential risk factors for honey bee health in Europe. The B-GOOD project analysed honey bee colonies in 15 European countries for the presence of pathogens and parasites (in spring, summer and autumn). For all samples the level of infestation with the parasitic mite Varroa destructor was determined and all were analysed for the detection of different viruses. In general, the researchers from FLI and Sciensano detected only very few cases of foulbrood, high viral loads in almost all samples and as expected, rising numbers of V. destructor mites from spring to autumn. A short overview of the results and the level of infestation with the different pathogens and parasites was also presented. Marc's presentation shed more light on the topic and brought attention to the contributions of the B-GOOD project for healthy and sustainable beekeeping.