Giving Beekeeping Guidance by cOmputatiOnal-assisted Decision making
Exploring the Socio-economics of EU Beekeeping: Insights by Prof Wim Verbeke
B-GOOD project partner Prof Wim Verbeke (Ghent University) recently shared valuable insights from the B-GOOD project at the Mediterranean Agronomic Institute of Chania (CIHEAM/MAICh). His seminar Exploring the Socio-economics of Beekeeping in Europe on 12 October 2023 brought together 1st and 2nd-year students alongside beekeepers to learn more and connect.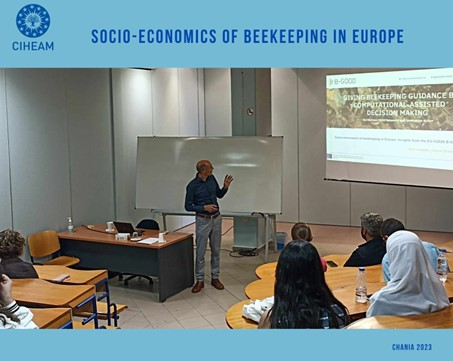 Photo: Prof Wim Verbeke at the Mediterranean Agronomic Institute of Chania
The seminar shed light on the myriad socio-economic aspects of beekeeping, a subject that has become increasingly significant in recent years due to certain challenges such as climate changes, biodiversity loss but also food security and environmental conservation. Understanding the socio-economic dynamics of this industry is cardinal to finding sustainable solutions for its challenges.
This seminar was also a great opportunity for those in the early stages of their academic journey to expand their knowledge and engage with a prominent expert in the field and left a great impact on the academic community at MAICh.
The beekeepers' eagerness to learn and engage with the academic community is a testament to the growing interest in sustainable beekeeping practices, the recognition of its socio-economic significance and the importance of B-GOOD's impact and results.